FRP Cooling Towers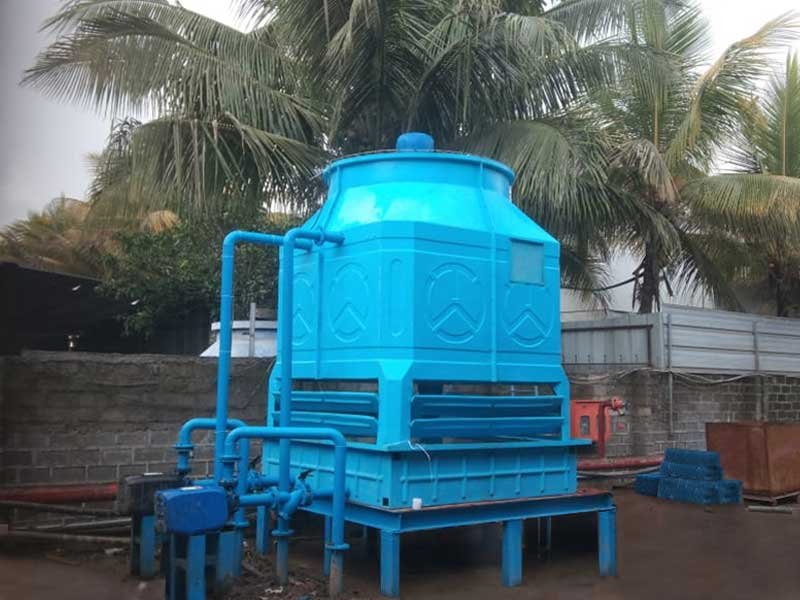 We manufacture bottle type induced draft counter flow frp cooling towers for Process Industries and Air Conditioning.
Fibre glass body is corrosive resistant, light weight but strongly as to resistant, with wind load. Commonly PVC Honey combs Fills are used as heat transferred media where the circulated water is clean.
We specially designed non clogging type Splash fill bar in place of honeycomb fills for water which has turbidity /hard water ( bore well ).
Standard Features:
* The hot water distribution system is passed through a G.I. Pipe (Header-Pipe). Which is firmly fitted with plastic spray nozzles which spray the hot water down to the tank.
* Each type of cooling tower has a suction pope, drain and overflow pipe. Float valve will be supplied with each cooling tower. All nuts bolts, washers used in the tower are pre-galvanized for the purpose to keep it rust free through out its working life.
* The structural and Louvers are Pre-fabricated to accreted dimensions from timber for easy and fast size installation. All timber components are specially treated.
* Pre-assembled at factory for simple installation at site.
* Galvanized pipe distribution system with micro spray nozzle.
* High efficiency double edge folded PVC fills.
* Galvanized Structure with Stainless Steel fasteners.